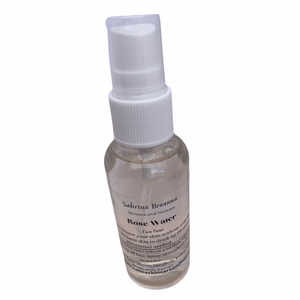 Sabrina Breanna Skin Care and Hair Care
Rose Water Face Toner
Regular price
$7.00
$0.00
Unit price
per
Gently refresh and cleanse your skin without stripping it of its natural moisture. Prepares skin to drink up the post-cleansing moisturizer applied. This toner is also good at helping aid in gently preventing ingrown hairs wherever you may spray.
Sizes: 2oz. or 4oz glass bottle
Please note: Although this toner was made for the face, it may be used anywhere on the body on un-broken skin. 
Directions: Spray toner onto a cotton pad then wipe face to get excess dirt/ make-up off face. Spray throughout the day for added moisture.
Ingredients:
1. Rose Water (Steam Distilled)- The anti-inflammatory properties of rose water can help reduce skin redness, prevent additional swelling, and soothe the discomfort of acne.
2. Willow Bark Extract- helps prevent ingrown hairs.
Provides gentle exfoliation for more radiant skin.
Helps reduce acne and excess oil.
Helps reduce signs of aging and the appearance of wrinkles.
Refines pores and smoother look of skin.
Helps alleviate conditions such as psoriasis, eczema, and rosacea.
3. Chamomile Extract- helps soothe skin. It may also help address redness, hyperpigmentation, and acne. Chamomile may also aid in soothing sensitive skin.
Caution: This product is made for external use only, 
---