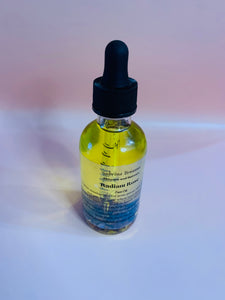 Sabrina Breanna Skin Care and Hair Care
Radiant Rose Face Oil
Regular price
$15.00
Sale price
$22.00
Unit price
per
This non- greasy, ultra-moisturizing face oil was created for people with acne-prone skin. The keynote scents are rose, tea tree oil, and eucalyptus. This oil is packed with 8 different types of oils for maximum benefits. Its lightweight formula was specifically created to ensure that this oil soaks into your skin and not just sit on top. Regular use of this rose infused-oil will help fade dark spots and help fight acne. This oil works with all skin types: oily, dry, and sensitive, and has a beautiful rose scent attached to it. In your Radiant Rose Face Oil, you will find a beautiful oil with roses inside to help fight acne and reduce dark spots. Pick up yours today!
Directions for Use:  With dry hands apply oil to face and rub into skin.
Ingredients: Rose Petals, Moringa Oil, Sweet Almond Oil, Apricot Oil, Avocado Oil, Vitamin E Oil, Tea Tree Oil, Grapeseed Oil, Rose Buds, Rose Geranium Oil
This product is 100% Vegan and Organic
No sulfates, parabens, formaldehydes, or silicones.
Cruelty-Free
Luxuriously Handcrafted
---