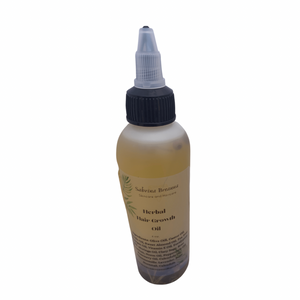 Sabrina Breanna Skin Care and Hair Care
Herbal Hair Growth Oil
Regular price
$10.00
Sale price
$20.00
Unit price
per
This ultra-moisturizing hair oil was created with curly-haired people in mind. This oil is packed with 9 different types of oils for maximum hair growth and strengthening benefits. It was specifically formulated to ensure that this oil soaks into your hair and not just sit on top of your hair. This oil also works as a great pre-poo, moisturizer, and shine magnet. This oil helps loosen your curl pattern after being applied and sitting for 5 minutes to help make the detangling process a little easier. It works its best when paired with the Sabrina Breanna Moringa Hair Moisturizer. 
Promotes Healthy, Moisturized, Shiny and Strong Hair.
Directions: Utilize easy to use squeeze bottle to apply the desired amount onto the scalp and length of hair, then rub in product with fingers. 
Ingredients: Olive Oil, Castor Oil, Avacado Oil, Sweet Almond Oil, Tea Tree Oil, Argan Oil, Vitamin E Oil, Eucalyptus Oil, and Moringa Oil. Horsetail, Chammomile, Rose, Calendula, Clary Sage, Rose Geranium, Neem Oil, Peppermint Oil, Rosemery Oil, Calendula Oil,
This product is 100% Vegan and Organic
No sulfates, parabens, silicones or preservatives
Cruelty-free
Luxuriously handcrafted. 
---